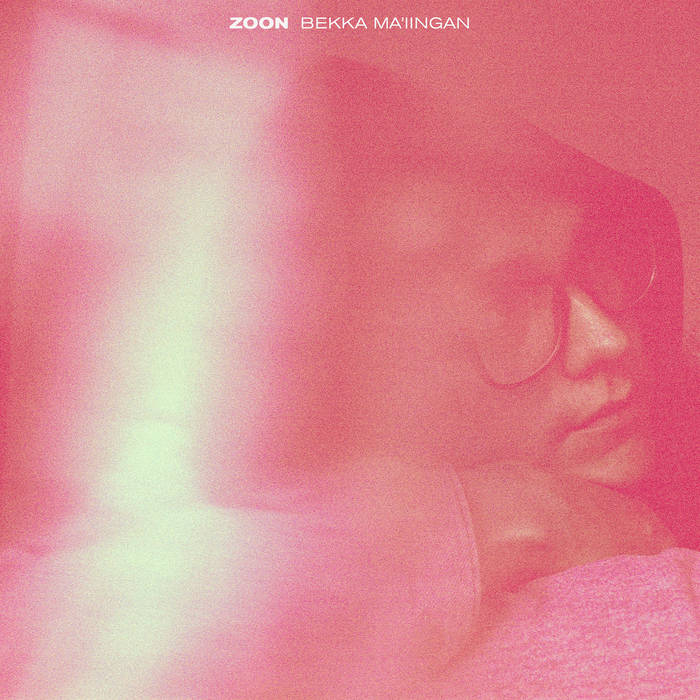 by Mykhailo Vil'yamson
If Daniel Glen Monkman's debut album Bleached Wavves could be described as elementally water-bound – saturated and immersed in dense reverb and sonorous with echo – their sophomore LP Bekka Ma'iingan both soaringly transcends and at times hovers just over the surf of what came before. The latest release by Zoongide'ewin (pronounced "Soon-guide-a-win") is airy, textured, complex, meditative, and positively stunning. Anchored in the depths of past recordings, Bekka Ma'iingan is also an emergence into another realm of sound. And amidst the sundry, mindfully bright orchestral tones that ebb and flow throughout, listeners are moved to pause and gaze upwards with their mind's eye in absolute wonderment at the swirling, many-layered, multi-hued audio skyscape created by Zoon.
Still primarily guitar-based, the ten songs on the album are surrounded and supported by a variety of other instruments – including an E-cello played by Michael Peter Olsen and strings by FAMES Skopje Studio Orchestra. The opening track, "All Around You," gives a glimpse into the palette of colours that Monkman uses to craft their masterpiece, and a similarly ethereal ambient feel can be found in "Brave New World (Without You)," the other instrumental song "Niizh Manidoowig (2 Spirit)," and the closer, "Ashes in A Vase." These are balanced out by the most distortion-heavy songs on the project, namely, the hazy west-coast shoegaze "Care" and the beautifully repetitive "Gaagige" that sounds like it starts halfway through the song (and aptly means "forever"). As for the four remaining songs, they are absolutely captivating each in their own way: "Dodem" has a vibe akin to gliding peacefully above the Pacific Coast Highway, the dual vocals in "Awesiinh (A-Way-See)" are blissfully comforting, "A Language Disappears" is extremely chill and instantly appealing, and everything about "Manitou" is invitingly haunting, enticingly unsettling, and gravely introspective (including its music video, which provides a thoughtful window into the significance of acceptance, family, tradition, and nature in surfacing from what so often engulfs us as humans).
All in all, Monkman has succeeded once again in crafting a sonic environment that gives people space – along with them – to both courageously escape and to humbly stop running; to honestly deal with hurt, unrequited love, and the great mystery of life; and with respect to old versions of self, to be true to who we are today as people (individually and collectively). Bekka Ma'iingan is the perfect companion to Bleached Wavves and is deserving of all the accolades it will receive, and these songs bode well for whatever new music Zoongide'ewin will release next.